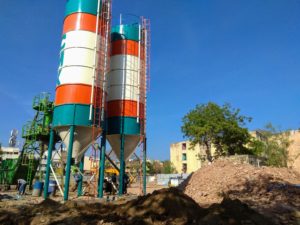 A few months ago, old housing blocks at Velleswaran thotam in R.A.Puram were demolished to construct new blocks.
The Tamil Nadu Slum Clearance Board (TNSCB) took up this project as the old blocks it had built at this location many years ago were in dilapidated condition.
It had proposed to build the new housing blocks on the same land area. Now, a huge concrete mixing machine has been placed here.
Says the manager in charge of this project, "Concrete mix required for the construction of the blocks would be produced through this machine. It has a capacity of generating 1-meter cube of concrete mix every 10 minutes."
He says that they are working on logistics and area clearance now. "The construction of blocks would start in a few weeks."
Ahead of the demolition, families of this colony were given a fixed amount of money and were asked to shift to rented houses till the construction of new blocks was completed.
The entire project is set to be completed in around 16 months.