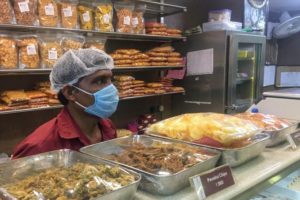 Amid the Coronavirus scare, hotels, banks and shops in Mylapore have started taking precautionary measures.
All the staff of hotel Nitya Amirtham on North Mada Street have been given masks.  Says the manager of the hotel, "We also clean the entire hotel and check the temperature of our staff every day."
Hotel Saravana Bhavan on the same street has shut its 120-seater AC dining hall till March 31st. Its non- AC dining area is functioning.
The Corporation Bank on East Mada Street has made hand sanitising compulsory for all its customers.
All their staff are also given individual hand sanitisers. Says V. Durga Prasad, Chief Manager, Corporation Bank, South Mada Street, "All places that people touch are cleaned every hour."
At Ratna Cafe on South Mada Street, the manager says the staff frequently wash their hands with boiled water. "The floor, chairs and tables are disinfected with anti-bacterial spray, " he says.
Elsewhere, Abby's quick eats joint on C.P. Ramaswamy Road, Alwarpet has provided multiple hand sanitizers for its staff and customers. Says Abhyuday Purkayastha, the owner of the store, "Our staff periodically sanitize their hands. To make sure they do it regularly, we have fixed an alarm in the store manager's mobile phone."