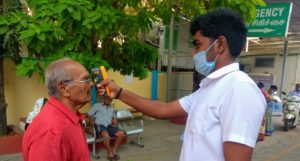 St. Isabel's Hospital in Luz has started taking precautionary measures to prevent the spread of Coronavirus.
On Monday, people entering the hospital were screened to check if they showed flu-like symptoms. Only the main gate of this hospital off Musuri Subramaniam Road was kept open to facilitate thermal screening.
The hospital has restricted the number of persons accompanying the patient to one.
"Children below 10 years of age and people above 60 years are not allowed to visit the hospital unless they need health assistance," read a notice at the hospital. The hospital has also restricted the entry of visitors/ relatives of patients.
The medical administrator here said that they have started preparing the isolation ward to admit patients with Coronavirus symptoms.