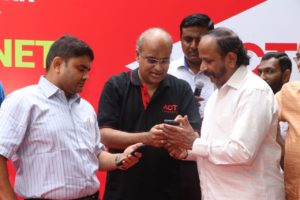 Now, you can access WiFi free inside Nageswara Rao Park in Luz.
This facility was launched last week by Chennai Corporation in association with ACT Fibernet, the service provider as part of the Smart City Project.
Commissioner of the civic body, G. Prakash, Mylapore MLA, R. Nataraj and ACT officials were present at this launch.
The project envisages providing many WiFi hot spots in prominent public spaces across the city.
You can log in via ACT on your smartphone and access data, download files and communicate. ACT says some 250 users can log in in one spot at 20Mbps speed for 45 minutes. Existing ACT users can also make use of the facility.
ACT is headquartered in Bengaluru and its local office is at TVH Belicia Towers ( Tower 1) in MRC Nagar.