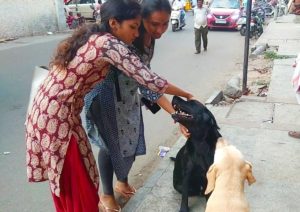 Meet Fluffy and Sasha, the friendly dogs at Mada Streets in Mylapore. These four legged animals instantly get excited at the sight of passers who show interest in playing with them.
On an evening, this past week, two young girls seemed very joyful playing with them. They went on to cuddle and pamper them for some 20 minutes. It took place at East Mada Street at pavement off Vanniyar Mandapam.
"It's so cute," said one of them even as she continued to gently tap the head of the dogs.
"They love being pampered," said Babu, who owns the dogs, a Labrador variety. Babu does the job of erecting pandals for local functions and temple festivals.
He resides with his family at Mangolai. Says Babu, "My son, who works at a private automobile company brought Fluffy (black coloured dog) home few years ago. Sasha is her daughter."
"Mostly young dog lovers stop by and play with the dogs when I take them for evening walks around Mada Streets," Babu says.