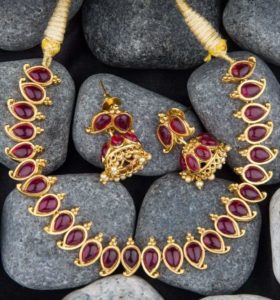 Manjushaa, the online jewellery store run by sisters Ayshwarya and Soundarya is hosting a pop-up sale of their latest collection on March 7 at Curio Play in Alwarpet. 11 am to 7 pm.
This weekend sale opens with the unveiling of the RaGa jewellery collection by the inspiration behind this collection, well-known classical music artistes,  Ranjani and Gayatri. 
Says Soundarya, "Our online store caters to the urban women who want to look their best but do not have the time to search for the perfect jewellery. We offer a perfect mix of jewellery designed by us and sourced from all over India." 
Manjushaa was started in 2008 by the duo to "channelise their passion for creating jewellery that was unique and affordable."  They hold exhibitions in the city to provide people a chance to pick their favourite jewellery in person.
The Manjushaa Morning RaGa Charity Sale of this weekend aims at raising funds for an NGO Shishu Shakthi. Shishu Shakthi, is a Chennai based trust run by the sisters that works towards educating under privileged children. Shishu Shakthi had educated close to 700+ children since its inception in 2005.
Says Soundarya of the social out-reach, "Many of the children we have supported are first generation college goers and have completed their graduation/post graduation and are placed in good jobs. We also focus on extra curricular activities during term breaks."
Besides the jewellery, there will be sale of clothing, organic beauty products, cheese, home baked products and home furnishing of different brands.
The online store www.manjushaa.com. 
The sale is at No.3, Ananda Road, Alwarpet.