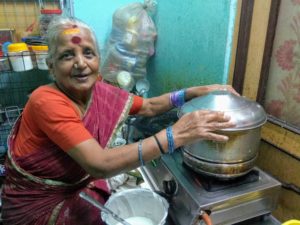 The small mess run by Easwari mami off Chitrakulam West Street is open for takeaways. The 70-year old though has limited the timings due to fewer orders.
She says, "I cannot be at peace if I don't work even for a single day. Also, there are many customers especially seniors who depend on my food. I have to serve them no matter what."
Easwari says she takes necessary precautions like washing hands to prevent the virus spread.
Tiffin items like idly, dosa and upma will be available in the mornings and evenings.
Open from 9 a.m to 12.30 p.m. and from 4.p.m. to 8.30 p.m. Menu may change every day.
To check availability people may drop in or call Easwari Mami at 9381226765.