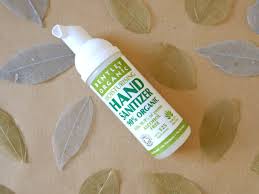 Organic hand sanitisers made of essential oils like tea tree and lavender are available for sale at Diya organic store at Venkatesa Agraharam Street in Mylapore.
The store that sells a wide range of organic rice and millets also sells disposable face masks now.
100 ml of the organic hand sanitiser is priced at Rs. 185. A face mask is priced at Rs.35
The store also home delivers organic veggies and fruits.
Says V.Geeta, the owner of the store, "We have been door delivering veggies and fruits only on Thursdays. However, considering the current lockdown situation, if we get more orders, we will provide the service on all days."
People have to place an order for veggies/fruits on Tuesdays. The delivery will be made at their doorstep on the following Thursday, she says.
The store is at 1, Venkatesa Agraharam Road, Mylapore. Ph: 6382001767 / 7871176704
Image used for representation. Picture courtesy: biteablebeauty.com