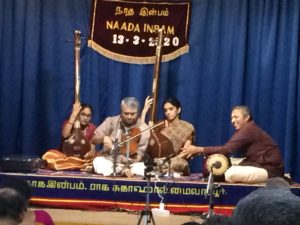 The Marungapuri Gopalakrishna Iyer violin festival is on at Raga Sudha Hall, Luz, from March 12 to 15. 
Solo violin performances by several leading violin artistes including S. Varadarajan, R. K. Shriramkumar and B. U. Ganesh Prasad have been lined up.
On Friday evening, it was senior vidwan R. K. Shriram Kumar on stage for his concert alongside mridangam vidwan Arun Prakash. And his first song was a Dikshitar kriti; after he played it Kumar told the audience of some 90 rasikas that the kriti seeks the ambal's blessings for a healthy, safe life.
Kumar said that he chose to play this as a prayer in a time when the corona virus has turned into a pandemic and affected most countries.