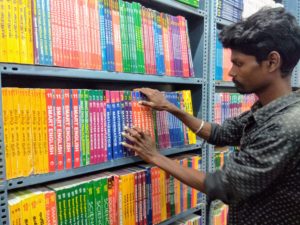 New Mylai Stationery shop on South Mada Street, Mylapore is now selling textbooks and guides for school and college students.
The school textbooks are available for CBSE, State Board and Matriculation syllabus.
The shop that sells stationery items has recently expanded to include these books. It has occupied the space of Ravi Books shop, that used to operate from here a few months ago.
Toys and items used for setting up theme kolu are also available at this shop.
Meanwhile, Ravi Books Shop has temporarily shifted to space opposite Sir Sivaswamy Kalalaya School on Sundareswarar Swamy Street. The managers of this shop said they would soon shift to a different location on South Mada Street.
The New Mylai Stationery is at 23, South Mada Street, Mylapore. Open from 8.30 a.m. to 9.30 p.m. on all days. Ph: 42360030