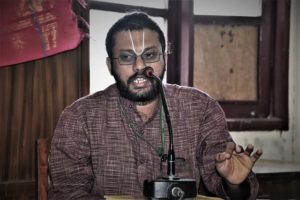 With the lockdown resulting in the postponement of the University semester examinations, 37 year old K. Dayanidhi, Head, Vaishnavism, Madras University has moved into a Power Point presentation model to brief students on the subject being taught – 'Vaishnavism and Divya Desams'.
Also, he is offering to people online Nalayira Divya Prabhandham classes.
He is using this time to refresh this students on the soft skills subject that the students of the University have to undertake in June, the rescheduled time frame for the examinations.
'Working from Home', he says he put together a 20-slide Power Point presentation and sent it online to 70 students.
Also, over the last fortnight, he has been reaching out to students over phone and online to clarify their doubts as they prepare for the semester examination.
Dayanidhi is himself studying on Sastras, Granthas and Parayanam. "In addition, I have been reciting 10-20 sargams of Ramayana each day," he says over the phone.
Dayanidhi is an integral part of the ghosti recital of the sacred verses at the Srinivas Perumal Vedanta Desikar Devasthanam.
During the period of the lockdown, he has launched an online Nalayira Divya Prabhandham class over Skype whereby students can learn the 4000 sacred verses of the saint-poets sitting in the comfort of their home. The classes take place every evening between 7 pm and 8 pm.
Those interested to learn can call 98848 21549 for details.
Dayanidhi resides at Desikar Bhavanam, Venkatesa Agraharam
– Report by S. Prabhu