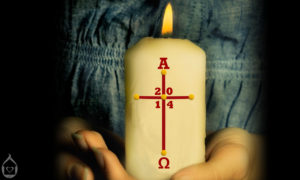 The office of the archbishop of Madras-Mylapore diocese of Catholics has put out a note useful for people to follow during the Holy Week services.
This comes in the wake of services being conducted in sone churches where they are webcast live to people. The archbishop is to lead such services in and around San Thome cathedral.
The communique suggests that people buy a candle and decorate it for the Paschal Holy Saturday service – April 11, 9 pm in English and 11 p.m. in Thamizh from the cathedral, web cast on Madha TV and a few other online channels.
These candles may be lit at home during the key part of the service.
Similarly, there is a special service on Easter Sunday, at 7.30 p.m. web cast on SanThome TV and others. The archbishop suggests that the Paschal candle be lit during that special prayer.