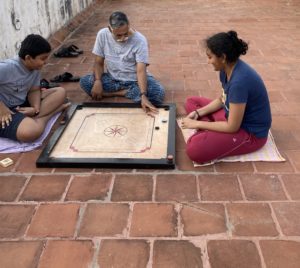 More and more Mylaporeans are finding fresh air, camaraderie and quality time on their terraces during the lockdown.
Mylapore Times started a series that is asking people to share photos and stories of their terrace life.
Vidhya Swaminathan of Alamelumangapuram posted a story of the Swaminathan family spending their quality time on terrace during this quarantine and indulging in many activities.
They are playing carrom board games,  taking turns to water plants, shooting pictures of birds and chanting the Sahasranamam.
That is a lot.
(( )) SHARE YOUR TERRACE STORY TOO – mail to – mytimesedit@gmail.com