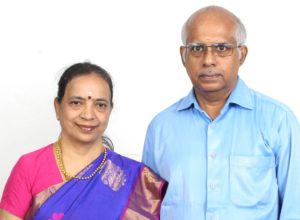 Are you a student of Sanskrit and want some material online?
You may want to check out the content that senior journalist D. Murali of Mylapore has posted. This keeps him and his wife busy through the lockdown.
A former deputy editor of Business Line and a chartered accountant, Murali was way ahead of his time as a journalist. While he launched many new sections in the financial daily that were new to financial journalism in the city, he also invited the management of companies to his office for conversations.
He video-recorded the interviews and posted them online.
When Sundaram Finance launched the 'mikeless' Sunday Kutcheri in the Park in Luz, Murali experimented with the idea of 'interviews at the park'. He would meet personalities at the Chess Square of the Nageswara Rao Park and record their stories.
To date, he has posted several thousand interviews and posts online ranging from corporate stories to art.
For a man so used to attending press briefings and seminars day in day out, this lockdown should have been a dampener. But Murali has found an innovative way to make life interesting and useful for others.
In the period of the lockdown, he has been creating educative video content for Sanskrit learners, via chanting of the Srimad Devi Bhagavata Mahapuranam
(https://lnkd.in/fBiPVQA?trk=public-post_share-update_update-text) and Valmiki Ramayanam (https://lnkd.in/fHAe6DB?trk=public-post_share-update_update-text).
Earlier he had created similar educative video on Sundara Kandam (Ramayanam).
Murali says that there have been days when he has gone on non-stop for 12 hours His wife, Saraswathi, also a CA, has been busy through the period of the lockdown involving herself with quite a few Sanskrit classes online.
Murali says that he has also been revisiting his blogs and sharing them on LinkedIn. He has also been maintaining the periodicity of his online magazine 'Business Advisor' and creating the playlists of last year's events on his Youtube channel.
Given the impact of the lockdown, Murali wonders if some of the big corporate seminars / events and even the press conferences would happen again anytime in the near future. "We must prepare  for a different model of interaction as we go forward," he says.
Murali is a resident of Warren Road, Mylapore.