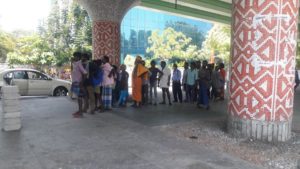 Since the lockdown, Chennai Corporation has been sheltering homeless persons in the neighbourhood to its shelters.
However, several homeless and daily wage workers continue to stay on the streets despite the Corporation asking them to shift to its shelters.
Now a group of them have taken shelter below the Dr R.K.Salai Bridge.
A social worker who wanted to remain anonymous said that some homeless persons who were previously sheltered at the Corporation's shelters have gone back to stay on streets. However, it is not clear why this is happening.
Says a Chennai Corporation official of zone 9, "Due to unknown reasons a few people from our shelters have gone back to stay on the streets."
When asked about the homeless persons under the R.K. Salai bridge, the official says, "Our teams along with police personnel have been asking the homeless persons staying below R.K.Salai bridge to come and stay at our shelters. However, they are unwilling to come. They seem to be comfortable on the streets as many donors are offering them a variety of food items."
"We will try convincing them again and shift them to our shelters at the earliest," he says.
Picture Courtesy: Bhaskar Sheshadri