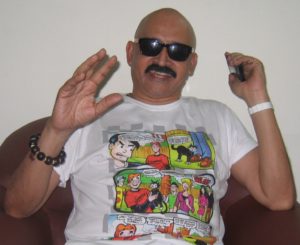 So what would you expect  Bhaskar Balasubramanian to do this lockdown?
Crack jokes.
More famously known as Bosskey, Bhaksar has to lead his day with humor. And share it with people.
He has been posting two 'humourous' videos each day, of two minutes duration each, one in the morning and another in the evening.  Bosskey believes that "it has been God's diktat to him to entertain people especially when they are in crisis."
Humour has all been his own idea, says Bosskey. "When I do something, I never borrow anybody's idea".
In the home made 'Humourology' video captured on camera by his son, Bosskey has been picking up the newsy topics of the day and presenting the story and his views in his branded style.
"This is for people locked in at home and down with negative news," he says.
He has so far posted around 70 videos on his Facebook page https://www.facebook.com/bosskey.balasubramanian/videos
A class topper at St. Bedes, 'Cricketer' Bosskey seemed unstoppable in his quest for the India cap in the late 70s. He had all the variations for a leg spinner and wickets flowed in all forms of cricket. In 1980 and 1981, Bosskey took around 150 wickets spread over the TNCA League and Colts, college cricket (Loyola), Inter Universities and the Vizzy Trophy.
And then he gained inches and suddenly lost his flight and arc. His serious cricketing ambitions ended soon and he later moved into the world of 'humour'. And his career took a different, busy path.
During the period of the lockdown, Bosskey says he devotes an hour and a half each day for yoga, walking and some cricket exercises that he remembers from his good old cricketing days – all on the terrace of his block. He spends half an hour reading newspapers.
And how does he spend the rest of the day – 'Mathapadi Vetti at Home'
In recent years, Bosskey has been doing 'Motivation through Humour' sessions for corporates and clubs and for students taking up important examinations.
Bosskey lives on R. A. Puram 2nd Main Road.