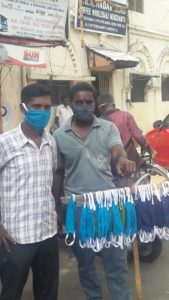 Once a busy sofa maker, Jeeva now goes around Mylapore selling cotton masks.
Following lockdown, as he no longer got any work, Jeeva was finding it hard to make ends meet. Similar was the case of his friend Udhayakumar, who used to work as a driver for a private company.
However, the duo was quick to recognise a potential business in selling masks and have now started selling them in the neighbourhood.
Says Jeeva, a resident of Mundagakanni Amman Kovil Main Road, "Both of us were looking for ways to earn some money to run our families. Soon we realised there was a demand for masks. So we started stitching and selling cotton masks. The skill I had to stitch sofa liners came in handy.," Jeeva says.
"Every day, we go around Mylapore' s streets to sell masks. Mostly, roadside vendors, Conservancy workers and policemen buy from us. We get some decent sales. And we are happy that we manage to feed our families every day," he says.
Their masks are priced at Rs. 20. Jeeva also takes masks orders. He can be reached at 9710846630.
Picture courtesy: Bhaskar Sheshadri