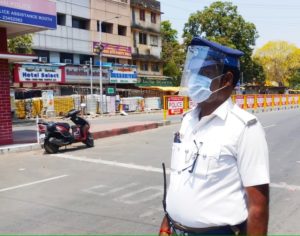 Traffic policemen in the neighbourhood have recently received face shields to protect themselves while on duty.
Since the lockdown, the policemen have been working day and night to ensure people follow the prohibitory orders.
Says a Traffic police inspector attached to Mylapore police station, "We wear the face shield on top of the masks. It provides us good protection as it covers the entire face, " he says.
In addition, they are also given zinc and vitamin tablets to boost their immunity.
"As a precautionary measure, women traffic personnel and some policemen above the age of 55 are asked to stay at home."
All those who work on the field are also asked to get themselves tested for the virus.
Says the traffic inspector, "After few policemen tested positive at Nungambakkam and Esplanade police stations, we have been asked to test ourselves, even if we are asymptomatic. So from tomorrow (May 4), we plan to go in batches for testing at a government hospital."