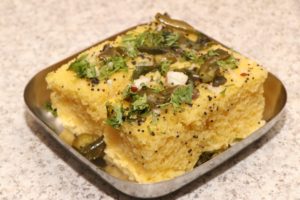 Ajnabi Mithaai, the well-known store at Alwarpet that sells Gujarat's popular snacks has opened for business.
Doklas, fafdas, kakras, dry snacks (samosa, kachori) and savouries will be available for takeaways from 9 a.m. to 7 p.m.
From not allowing customers inside the store to using different boxes to collect cash, the store has introduced several innovative precautionary measures to prevent the virus spread.
Says Kruthik P. Vasrani, who manages the store,  "To prevent the virus spread, we are not allowing customers inside our shop. We have displayed our packed snacks on a table that is kept at least 7 feet away from the main door. Customers are asked to select the items of their choice, then our staff pack and hand it over to them from a distance."
Also, the store does not collect cash directly from customers. Says Kruthik, "Customers are asked to drop the cash in a box; For providing the change, we use cash from a separate box that has sanitised notes."
As the virus can also spread through cash, Kruthik says they sanitise the cash received from customers using a disinfectant spray. "After receiving cash from customers, we disinfect it using a disinfectant spray and keep it untouched for 2 days. The next day, we use a different box for collecting cash," he says.
The store also ensures all their staff take precautions. "For ensuring the safety of our staff, we only have 10 % of staff working now. They all wear masks and gloves while at work. We also check their temperatures regularly. The entire store is also sanitised frequently."
At C.P. Ramaswamy Road, Alwarpet (behind Havmor ice cream parlour). Ph: 9500028888.