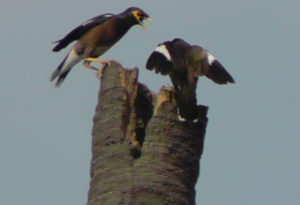 Like many Mylaporeans who while away time on their terraces, K. Srinivasan of St. Mary's Road has been doing so with his camera in hand.
Recently, he shot a drama on the other side of the road.
Of a parrot perched on the top of a dead palmyra tree, about 60 ft tall on the northern end of the
cemetery situated on St, Mary's Road. The bird has its nest in the hollow of the tree.
But that evening Srinivasan caught on camera two mynahs trying to drive away the parrot from its abode so that they can occupy it.
Says Srinivasan, "We then saw some crows around the place drive away the mynahs."