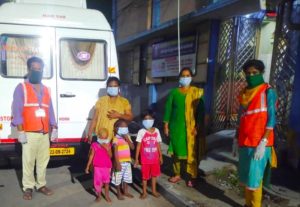 Chennai Corporation on Friday rescued a woman and three of her children, sheltered under the T.T.K Road Flyover in Alwarpet.
Yesterday night, during their regular rounds, the Corporation officials found this lone woman along with her kids under the T.T.K Road bridge.
Says a Chennai Corporation official who rescued the woman, "The woman and her three children were suffering under the bridge without proper food. They were also struggling to find clothes to change."
He says that the woman recently left her Chennai home due to quarrel with family and had not taken any essentials, including clothes while leaving her house.
"We could not contact her family as she did not have a mobile or phone numbers of family members. Hence, we took her to our women's shelter in Teynampet. "
Now, at the Teynampet shelter, the woman and her children are provided with food thrice a day. The Corporation is also arranging clothes for them. Soon after establishing her family's contact, the civic body plans to reunite the woman with her family.