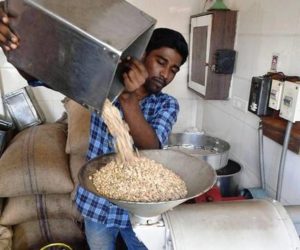 Mylapore' s Sundaram Coffee shop is doing all it can to serve its customers during the lockdown period.
The store, known for its freshly ground filter coffee powder has been in Mylapore for a long time and has a huge customer base. It sources coffee beans directly from Coorg, Karnataka to make the coffee powder.
Before lockdown, the shop would be abuzz with customers, especially seniors and those visiting Sri Kapaleeswarar Temple thronging the store to get their favourite filter coffee powder.
However, following lockdown, the shop had to remain closed for almost a month. Says S. Pradeep, manager at the store, "We provided salaries to all our employees and somehow managed to survive that month."
A few weeks ago, this shop at South Mada Street re-opened for business. However, Pradeep says since they reopened, business is not as brisk as it used to be. "Only a few customers walk-in on a daily basis," he says.
Now, to help people who are unable to drop into their store due to lockdown, the shop has started providing courier service. "We started the service after many customers from Tiruchy, Madurai and other parts of Tamil Nadu requested us to supply coffee powder through courier."
Pradeep says they get at least 5 to 6 courier requests every day. After getting the courier orders over the phone, this staffer goes to the post office to courier the packed coffee powder. "We receive the payment online via Google pay, or through Internet banking," he says.
The store also plans to help its local customers by delivering coffee powder at their doorstep. However, Pradeep says they are unable to start the service due to staff shortage. Says Pradeep, "After the lockdown, all our staff went to their native places outside Chennai. Now, they were unable to return due to lack of transport facilities. So it is becoming difficult to provide door delivery."
But soon after the lockdown eases the shop promises to provide door delivery. Coffee powder is sent through courier within Chennai and Tamil Nadu. To avail the facility call 24640191 / 7092467180.
At 18, South Mada Street, Mylapore.
Picture courtesy: The Hindu;