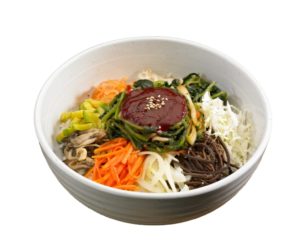 Now, you can get authentic Korean dishes door delivered from the InKo Centre in Adyar Club Gate Road, R.A.Puram.
Cafe Misone, located next to the centre's gallery will offer homemade vegetarian and non-vegetarian Korean dishes in addition to offering coffee, tea and light Korean snacks.
Says Rathi Jafer, director of InKo Centre, "Since a long time our regular visitors have been asking us to provide Korean dishes at the centre. So we had planned to start providing them just before the lockdown. "
"We had also sourced all special ingredients from Korea to cook the dishes. But due to lockdown restrictions, it took some time to finally start the service."
She says that they have collaborated with their Korean partner Sarah to prepare the dishes. Says Sarah, who coordinates the Korean food preparation and delivery, "The food items are prepared by experienced Korean chefs at our guest house – Miso Enterprises in R.A.Puram and then sent to InKo centre. While preparing food, our staff wear masks, gloves and maintain social distancing to prevent the virus spread. We also ask the customers to wear masks, when they come out to collect takeaways."
In addition, our drivers who go out for delivery also wear masks and take all necessary precautions, she says.
For now, preset menu of vegetarian and non-vegetarian dishes will be available. Some of the items in the non-vegetarian lunch include bulgogi, pajeon, steamed rice, chilli sauce, soya sauce, and kimchi. Meals (non-veg) for two is priced at Rs.1800.
The centre has also rolled out a menu card with a two-line descriptor for each Korean dish. "The descriptor will crisply outline the ingredients and method of preparation, to guide anyone who wants to try out a dish. This is an opportunity to look at culinary traditions as a cultural signpost alongside promoting Indo-Korean relations through performing and visual arts, language, wellness and information provision," Rathi says.
The menu may change every day. One has to place an order one day before the requested date of delivery.
Home delivery will be made between 11.30 a.m. and 1 p.m. To place orders call 9840078220.
Picture features a Korean dish Bibimbap; courtesy: Cafe Misone