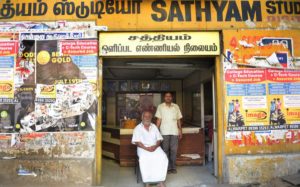 This is a tribute that Mylapore MLA, R. Nataraj paid to senior photographer and Mylapore icon Balachandra Raju of Sathyam Studio who passed away this week.
Sathyam Studios is an unforgettable place, a part and parcel of every event in our family.
For my civil service exam I took the photo there and he insisted that I wear a tie and coat ! Though I did not have one I borrowed it and took a passport photo.
He had unique style in moving the cap of the photo shutter with a flourish of his hand!
My sisters, brother had their photos taken here for various occasions including for marriage proposals!
We were all successful in life thanks to the benevolent charm of Satyam studio.
May his soul rest in everlasting peace.
Photo courtesy; The Hindu