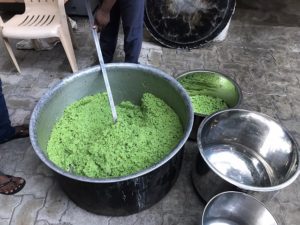 Sekar Viswanathan, who founded Viswajayam Foundation in July 2013, has been quite busy since the first lockdown. He has been out for atleast 8 hours everyday distributing food to frontline workers and patients.
He says, "We started on March 25 with the government hospital at Royapettah. We started distributing cooked food for breakfast, lunch and dinner to the doctors, nurses, patients and attenders there. We then added the Institute of Child Health and Hospital for children (ICH) at Egmore. We completely depended on the food prepared by Eco Kitchen at Injambakkam. To avoid the cost of packaging and to ensure that the food stayed hot, we picked up the food in stainless steel vessels supplied by Sri Ramakrishna Math Ashrama at T. Nagar".
He continues, "Soon nurses at the Institute of Obstetrics and Gynaecology at Egmore wanted me to supply food to the mothers had just delivered babies. Some of these babies were in the ICU and the mothers couldn't go out to get food. We then realised that we had some food left over and so we decided to distribute it to the general public outside the hospital".
All the volunteers who worked for him followed social distancing at all times, he says. "We managed with the minimum number of volunteers, all of them were asked to soak their clothes in hot water everyday after they went home and then take a bath. We used only reusable masks and all the volunteers ironed their masks everyday".
He says after May 3 the operations have scaled down a bit. "We are now providing lunch and dinner to the workers and patients at the cancer ward at Royapettah hospital and the haematology ward at ICH only. We have also been taking care of the housekeeping needs at the cancer block for 7 years now. About 1 lakh sq feet spread across 5 floors are being cleaned by 16 staff everyday with biodegradable disinfectant which we make on campus".
Donations are welcome, he says. Contact Sekar at 9380022773. The foundation is located at 99, R. H. Road, Mylapore. You can also send an email to viswajayam.fn@gmail.com.