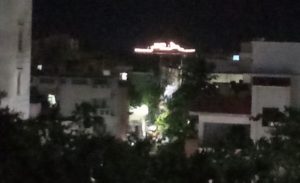 All over the country, Navy ships were illuminated and helicopters showered flowers on hospitals yesterday to express their solidarity with healthcare, police and other frontline workers.
Two Navy ships which come under the Eastern Command, Vishakapatanam dropped anchor in the seas off the Light House on the Marina since early afternoon.
They were illuminated and could be seen by residents along the Loop Road and San Thome.
This visual was taken from the terrace of a resident just off San Thome High Road.