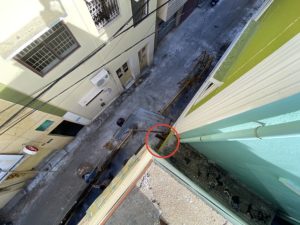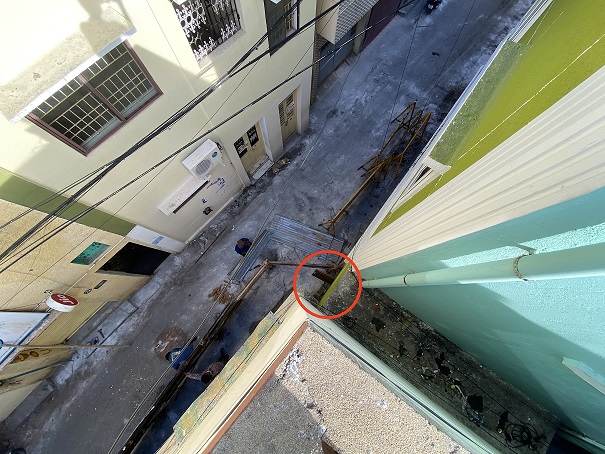 Mrinal Shyam Ramesh has been a resident of Adam Street, Mylapore for more than four years. He says when his neighbour tested positive for coronavirus, a path which has been set up outside his neighbour's house runs outside his independent house too and that is making him uncomfortable.
He says, "On May 10, my neighbour who stays in an apartment complex right next to my house tested positive for coronavirus. He was immediately taken to the hospital for testing. His wife and daughter were also taken for testing and they tested positive too. On May 16, a pathway has been set up from my neighbour's apartment to enable the other residents of that apartment to go out for essentials. That path is right outside my house and we too have been asked to use the same pathway to go out. For the first two days, there were police personnel manning the area, after that there is nobody here to monitor what is going on. There was a hotspot banner which was also removed."
He adds, "There are five seniors in our independent home including one nonagenarian. My concern is that there is absolutely no protection offered to us as we are using the same pathway as them. I have talked to the local health inspector and corporation area engineer for Ward 124, Vivekanandan, and they all assure me that I have nothing to worry about. How can I not worry when I see workers in PPE suits taking out the garbage from that building and using the same path that I have to use. I don't know what is going on there. I have put several requests to the Corporation to remove that path from outside my home but I haven't got a satisfactory response so far".
Corporation AE Vivekanandan says, "Whenever we put up the barricades we take into consideration the needs of all the residents of that area. With this particular apartment block, we did not have a choice but to put it in such a way that it passes right outside the independent house as both of these homes are right next to each other and the street is quite narrow. Our motive was not to cause inconvenience to any resident. We have educated the residents on the street on what needs to be done to be safe and healthy and have asked all of them to take the necessary precautions. On request, we will gladly distribute kabasura kudineer to anybody who asks for it. A resident who stays right opposite, being a senior, was also given the opportunity to relocate but he decided to stay here".
Vivekanandan continues, "All the three residents of the same family who tested positive have been taking treatment at private hospitals. I don't know if they have come back but if they do, they will do so only after they have tested negative and so the resident has nothing to worry about. None of the other residents of the apartment complex or on that street have tested positive either. As regards removing the barricade, we receive our instructions from the Corporation Commissioner. Usually we put it up for 15 days as that is the recommended quarantine period".