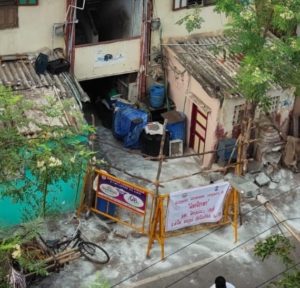 Residents of Kapali Thotam, a slum board tenement in Mylapore, confirm that one virus case has been reported at Pallakuma Nagar.
Pallakuma Nagar is also a slum board tenement adjacent to Kapali Thotam. It is located next to Thirumayilai railway station off R.K. Mutt Road in Mylapore.
Says Krishnakumar, a resident of Kapali Thotam, "A youngster, who resided at one of the blocks at Pallakuma Nagar turned positive yesterday. Following this, barricades have been placed in front of his housing block."
The Corporation is disinfecting all the 32 houses in this block since today (May 6) morning, he says.
The virus-positive person is admitted to hospital. However, this resident is not clear about the virus case at Kapali Thotam.
Civic officials could not be reached for details regarding this case.
Now, Krishnakumar, who also runs a local association says he fears the virus will quickly spread to their colony, leaving all of them infected.
Krishnakumar says, "Both the slum board colonies (Kapali Thotam and Pallakuma Nagar) together have some 1200 families, all living in tightly packed houses. Each house will be just 220 sq ft. And at least 8 people stay in one house. Hence, it is practically not possible to follow social distancing inside our houses. However, we can self regulate and avoid crowding in the public."
But, most residents, he says are not sensitive to the issue. "Only a handful follow the regulations to avoid virus spread. Others just crowd around and chat on the streets. They don't even wear masks that some of us provided. Even if we tell, they ignore it."
He says that the local police is also having a hard time regulating social distancing at their colonies. "Police keep creating awareness on social distancing and other preventive measures. But residents seldom listen to it."
Besides this, when shops open for sales, the residents crowd there to buy things, he says.
In addition, the unhygienic conditions around this colony add to his fears. "There are frequent sewage blocks, due to which, dirt water overflows. And there are garbage pile-ups all around."
Though the Corporation cleans our area every day, he says people continue to dump garbage in the open. "All these civic issues have to be addressed immediately to avoid virus spread at our area."