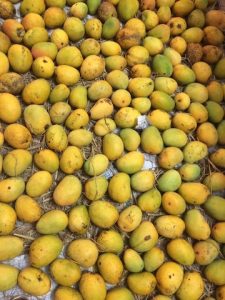 The seasons' special mangoes have arrived at The Shandy organic store off Luz Church Road in Mylapore.
Mango varieties including Imam Pasand, Alphonso ( Rs.180 per kilo) and Senthura are now available for sale at the store.
Says Hari Sethuraman, one of the promoters of The Shandy, "Usually we get these varieties much early in the season. But now due to lockdown, they have arrived late. While Imam Pasand and Alphonso are available in large quantities. Sindoora is limited at our store."
Due to lockdown, the store that sells organic veggies and fruits is facing difficulties in getting supplies.
"We get our products from Kodaikanal and other parts of Tamil Nadu. As the number of virus cases in Chennai has increased, drivers outside Chennai are hesitant to enter the city. It has also been difficult to source products from our own farm at Cheyyur, which is 100 km away from the city. We somehow arranged a few drivers and got these mangoes. "
The store has also put in place several precautions to prevent the virus spread.
It no longer allows customers inside their shop. Says Hari, "Customers will have to WhatsApp a list of items they require. Our staff will pack them and then customers can pick the items from outside the store."
A kilo of Alphonso is priced at Rs.180. Imam Pasand and Senthura are priced at Rs. 260 and Rs. 110 respectively.
People who need the mangoes may WhatsApp to 7708612348 before dropping at the store. The store also provides door delivery through Dunzo.
At 177, Luz Church Road. (near M. Ct. M. School). Open from 10 a.m. to 5 p.m.