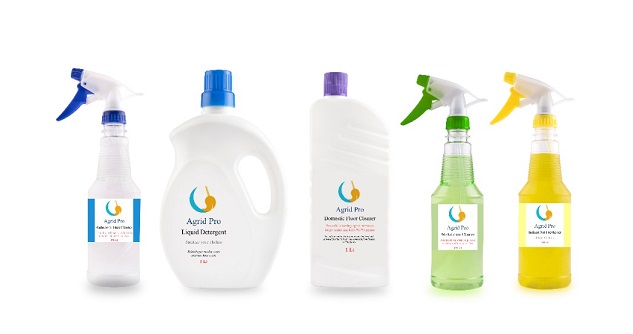 Kashyap Suresh has been a resident of MRC Nagar for the past 18 years. Inspired by his grandfather, he recently quit his job and decided to sell hand made soaps. But the lockdown changed his plans and he ended up making and selling cleaning products instead. His company 'Agrid Scientific Company' sells domestic floor cleaners, workstation/glass cleaners, industrial floor cleaners and fabric washes.
He says, "My grandfather K. Ramachandran has been a resident of MRC Nagar for more than three decades. He was very passionate about making soap and continued to make soap oil (an ingredient for soaps and detergents) till he got transferred to Bombay in 1984.  He came back after 5 years and we stayed together till he passed away in February this year".
Kashyap and his wife Swetha Sundararajan had a very small business of making hand-made soaps for the past couple of years. They had the dream of making it big and were getting ready to start the business when the lockdown was imposed on March 24. Things slowly turned bleak. When the post office and courier companies closed their doors, they were unable to sell soaps. Kashyap however did not allow this roadblock to deter him. He started distributing hand sanitizers in his neighbourhood. This gesture gave him access to a huge network of working professionals and decision makers who urged him to supply other cleaning products.
Soon, the couple started testing out a few cleaning products. With the economy opening up in phases, demand for his products increased. He also got his products certified by Tamilnadu Test House Private Limited, a NABL accredited and drug control licensed company.
He says his cleaning products have been tested and certified to kill 99.99% of germs and is priced at 50-60% lesser than other products in the market. "Agrid stands for agriculture, research and industrial design, we plan to promote sustainability through cleanliness", he adds.
When asked where his manufacturing unit is he says, "Currently we are manufacturing our products in a shed behind my home at MRC Nagar. This is where my grandfather made soap oil 35 years ago. We will soon start production in a state of an art manufacturing facility in the city from July 1".
He says he has recently launched a household kit which will have six products at a cost of Rs. 799. Delivery options are available. There is no minimum order. For details contact him at 9884837795. Email him at info@agrid.in.