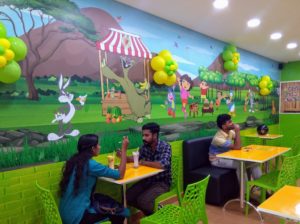 Though business is low, this juice shop at Luz is open to help customers during crisis times.
Bhairavi Dineshkumar, a resident of South Mada Street opened Juice World, at P.S.Sivaswamy Salai in early March.
But soon it had to shut down due to lockdown. Says Bhairavi, "For close to two months, we faced severe problems in paying rent, salaries to our employees and loan."
A few weeks ago, when the government allowed restaurants to open for takeaways, the shop that sells fresh juices (watermelon, sweet lime, pomegranate, kiwi), sandwiches and faloodas opened for business.
"Since we opened, there are a few regular customers dropping in daily. Some drop in to by specific juice for their medical needs and others buy watermelon / sweet lime juice in bulk to beat the heat of summer. Now, although our footfalls are low, we are happy to serve them during this crisis."
However, Bhairavi says they are facing several challenges to run the business.
One main challenge, she says is to get supplies from Madhavaram wholesale market. "After the Koyembedu market was shifted to Thirumazhisai to prevent virus spread, the fruit market was shifted to Madhavaram. With business running low, we are unable to go such a long distance to procure fruits. "
"In addition, vendors are also unavailable for supply as our demand is low. Hence, we are forced to buy fruits from the local market where fruits are sold at double the wholesale market rate."
We somehow managed to run the business this month, with the help of savings we had kept for our children's education. But in the coming days, we don't know how we would manage, she says.
Bhairavi says that it will be good if the government allows dining with some precautions in place. "Many customers want to drink juice on the go. But since only takeaways are available, they are forced to remain thirsty till they reach home. It will help people if the government allows dining in a limited manner."
She says that their shop takes all precautions to prevent the virus spread. "All staff wear masks and gloves. And we are not allowing customers inside our store. We have arranged chairs outside the shop for customers to wait for takeaways. Our staff take orders, fill juice in PET bottles, then pack them in brown covers before handing over to customers."
At P.S.Sivaswamy Salai opposite The Madras Sanskrit College on R.H.Road. Open for takeaways from 9 a.m. to 9 p.m. on all days. Door deliveries available through swiggy and zomato. The shop also does door delivery if items are purchased for Rs.500 or more. Ph: 9884048972.
Picture: file photo of shop taken before lockdown;