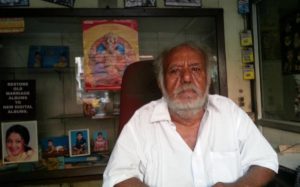 C. S. Balachandra Raju, the well-known photographer of Mylapore, is no more. He passed away on Sunday, May 10.
Raju was the man behind the iconic Sathyam Studio, located in a nook off R K Mutt Road alongside the Thirumayilai MRTS station. A studio with a history of over 65 years.
It was a business he inherited from his father and in passing away, he left the baton to his son to continue the profession.
He was 81 years when he breathed his last and was bedridden in the last two months and moved to a senior citizen home at Tambaram from where he didn't return, said Gajapathi Raju.
As a photographer he was associated with educational institutions like Vivekananda College, Ramakrishna Mission, Rosary Matriculation school and St Thomas convent and even MIT Chromepet. to name a few.
Mylaporeans and beyond saw him an a man who brought auspicious times and hence, signed him up for taking photos for the marriages and the would-be brides.
And these people, would return for photographing their children in the studio by the grand old man.
Photo courtesy; The Hindu
(( )) IF you knew Sathyam Studio and Raju well, post your anecdotes here.