This is a tribute paid to C S Balachandra Raju, veteran owner of famed Sathyam Studios of Mylapore who passed away.
—
A couple of years ago, Babu Sadasivan, former IT head of advertising agency O &M, Chennai and later, a IT Professional at a Top 5 MNC called me from his house in Oorapakkam.
He had a negative (of a photograph) of the samadhi of a village saint photographed with the traditional but now out dated camera roll. There was an urgent need for a print. Not many could get this done.
But Mylapore's Sathya Studio did it cooly.
As Babu retells this story, he becomes emotional. He had gone all around the city of Chennai as well as Thiruvananthapuram to get a positive print of the photograph but he failed.
He needed to send that urgently to his parents in his home town of Marthandam and was in a fix. 
He had tried all the leading 
photo studios in two large cities but had failed to find a solution.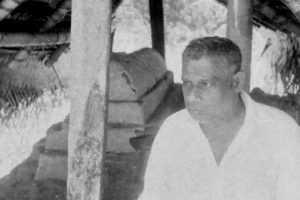 Digitisation in the photo world meant that modern studios were not equipped with the facility to convert the negative into  a photo print. In fact, to his amusement, Babu found modern day studio owners belonging to the new generation asking him if they could have this negative for their records. This left him even more perplexed and angry.
Soon after his call that morning, I asked him to bring the negative to his office in Kandanchavadi on the OMR. I went all the way to his office and picked up the negative.
And what did I do? I came straight to this old styled studio 100 metres away from the MRTS station. Sathyam Studio.
The owner was delighted that I had brought a negative of a photograph from the 1970s and said that it would indeed be possible to do a 'positive' photo print. He asked me to come later that evening.
I wanted to showcase this one of its kind studio to that IT professional, who was a high end technology support provider himself and hence asked him to land up at the shop at 7pm that evening.
Seeing the positive photo print of the saint from his village left Babu Sadasivan in tears. Old fashioned and now extinct technology did survive in traditional skilled hands. And the price was not stiff.
That day, Sathyam Studio served to Babu Sadasivan what he could not get done in two cities.
Photograph on top is of Babu Sadasivan and below of a copy of an old print showing the samadhi and a visitor nearby.
– Report by S. Prabhu