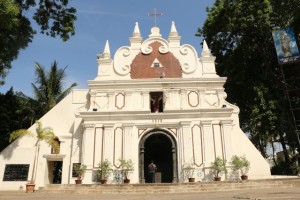 Fr. Peter Thumma of Our Lady of Light Church in Luz did something anyone would do when he ir she learns a neighbour has passed away. Offer condolences.
But the parish priest was not aware of this neighbour – Raghupathy, a senior who lived down Luz Church Church, metres away from this heritage church.
Raghupathy, on his walks inside the Nageswara Rao Park and around would often stop at the gate of the church to say a prayer.
He passed away last week, falling to the virus.
When Fr Thumma got to know of Raghupathy's visits to the church, he found out the family's phone number and made a call to offer condolences. The family was touched.
"In these hours where we are still wondering what happened to us, such a call was calming," said Raghupathy's son, K S R Anirudha.