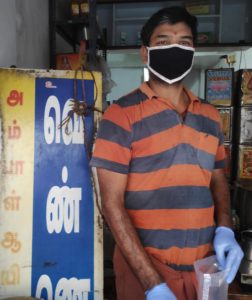 T. Karthikeyan, owner of Ambal Oil Stores located in a mere 100 feet space, has been in business on Royapettah High Road, opposite Sri Anjaneya Temple for well over two decades.  And is a destination for Mylaporeans.
It sells cow ghee, butter and oil and the shop had been open through April even during the peak of the lockdown restrictions. However, customer arrivals had slumped to 25% in April, says the owner.
Bur since senior citizens made much of the store's customer base, Karthikeyan used Dunzo delivery service to home deliver. After the rules were relaxed, he has seen the customer visits double from the April low.
Devotees presenting lamp oil to temples are customers here. With the temples being shut for devotees,
this part of the business has taken a hit.
Karthikeyan says he strictly follows the social distancing norms at his store. He is always seen wearing a mask and  also gloves. There is also a hand sanitizer placed at the entrance of his shop.He also proactively alerts customers who are not wearing masks.
He offers digital payment through PayTM and BHIM UPI to minimise cash transactions.
Ambal Oil Store is opposite the road leading to Vidya Mandir School on Royapettah High Road.
– Report by S. Prabhu