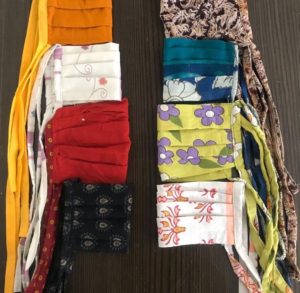 For the vocational trainers at V-Excel Educational Trust, the past two months have been very busy. This is because they have been stitching cloth masks in addition to taking online classes for their students.
In early April, the NGO for special children based in Mandaveli collaborated with Chennai based quilting studio 'The Square Inch' to make cloth masks to be distributed to the public.
Soon, V-Excel got their trainers to stitch cotton masks and started selling them. Now, their masks seem to have got a good response.
Says Charumati Sriram of V-Excel, "Ever since we started selling masks, people, especially seniors have been ordering them in bulk. We have sold over 800 masks now."
The masks, she says are made adhering to the specifications provided by the Ministry of Health and Family Welfare. "They also come with a pocket to insert filter for extra protection."
Charumati says they started planning logistics to make the masks in mid-April. "Immediately, four of our trainers who had sewing machines at their homes and one trainee volunteered to stitch the masks. Later, with the help of a video sent by Varsha Mohan of the quilting studio, we began making masks."
Though the trainers had to take online classes, they were willing to take up this additional work to serve the public, she says.
But the team had a challenge at hand. They had to procure a specific fabric and distribute them to their trainers who were making masks.
"This was difficult as the lockdown rules were stricter then. So to procure the fabric, we had to put out an appeal to the public. One by one, people from across the neighbourhood donated bed sheets and even cotton nighties to make masks. But then the next challenge was to distribute the fabric to the trainers. It was tough as some of them resided at far off places."
That was when V-Excel's office boy and Dunzo delivery men came to their aid. "They both helped to drop the fabric and collect the finished product from the trainers."
A cotton mask made by V-Excel is priced at Rs. 35. Proceeds from the sale of these masks will go towards the charitable activities of the NGO.
People who may require their masks may contact Charumati at 9840571731.