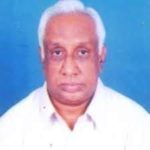 Fr. Paschal Petrus, a senior Catholic priest belonging to Archdiocese of Madras-Mylapore passed away on Saturday night (May 30) in a city hospital aged 70, due to Corona virus complications.
He was the first diocesan priest to contract the illness and his body was buried in the special cemetery adjoining the campus of Our Lady of Light Church in Luz, on Monday.
All the guidelines in this case were followed and besides two family members of the priest, Archbishop Rev. George Antonysamy was allowed to pray over the coffin and bless it before it was lowered in the prepared grave. All of them had to be dressed in PPE suits before the body arrived at the cemetery.
Said Fr Thumma, parish priest of the Luz Church, "They asked us to dig the grave to a depth of 12ft. All procedures of the state in such a case were followed."
Parish priest of a church in Choolai, Fr Petrus was being treated for what local doctors thought was typhoid. Later, he was diagnosed as virus positive, treated first at St. Isabel's and later at a government hospital where he passed away.
The body was brought to the cemetery in an ambulance van; the diocese had ordered for a casket into which the body was placed and sanitised, and after the brief funeral prayer, the casket was lowered into a grave filled with sanitised materials. All processes were undertaken by civic staff assigned to this funeral.
Fr. Paschal Petrus, served as correspondent of St. Joseph's Anglo-Indian Higher Secondary School, Vepery, besides being the parish priest of St Andrew's, Choolai.
He had served the parish communities of Mater Dolorasa, Royapuram, St. Andrews, Choolai, St. Joseph's, Vepery and Ennore, Risen Christ Church, Peravallur and K.G. Kandigai, as their parish priest.
WATCH VIDEO OF THE FUNERAL – https://www.youtube.com/watch?v=yvSwfO5Rpjg&feature=youtu.be&fbclid=IwAR1Up5fTB2uCxn7JuB4MNRC9y1j_VQsaZcZF5MVlIsrLuNRDf4DKMlNZDYI
Report had inputs from Auxilia Peter