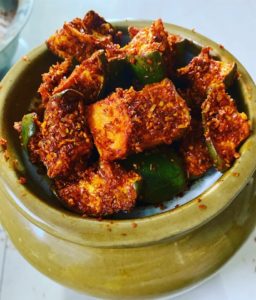 Parul's Magic Pickles, a homemade and personally marketed business is offering to deliver to your home from its CIT Colony base.
Parul Bhatt  has specialized in  what she calls 'authentic  homemade Gujarati pickles and masalas. All products  are  handmade  and  100%  natural  ingredients  a9 re used. No preservatives are added.'
Parul's Magic has a variety of pickles – Chundo, Aam Murabba, Katki keri, Gor Keri, Methiya Keri, Chana Methi, stuffed Baby Mango, Ginger Garlic, Mango, Gunda Keri ( Gum Berry), Lemon Sweet Sour, Green chilli in mustard, Carrot red chili and Amla murabba.
The masalas are Tea Masala, Chaas ( used in buttermilk ) masala, Ravaiya Masala ( masala for stuffing vegetables) and Pickle Masala.
The Chundo  is sweet, spicy and slightly sour  Mango pickle is Parul's best seller and also the flagship product. Aam Murabba is a sweet mango pickle  with dry fruits and saffron.
Gor Keri is sweet and spicy Mango Pickle. It is jaggery based while the Chana Methi Mango is spicy.
For your requirement, call 98410 14925. The pickles can also be picked up from CIT Colony, 4th Cross, Mylapore or can be sent by Dunzo.