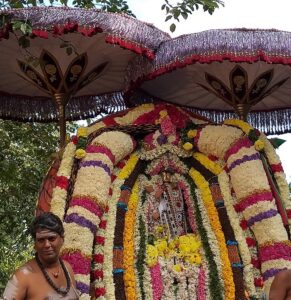 It was on Aani Barani in 1851 that Appar Swami, a Siddha who lived in the 19th Century in Mylapore attained mukthi.
His disciple Chidambaram Swami built the Appar Swami Temple dedicating it to his guru. The 169th edition of this annual utsavam was celebrated in a quiet way here, sans the grand street procession, last Tuesday (July 14) at the Appar Swami Temple on Royapettah High Road.
The day was marked by abhisekam for Appar Swami.
S Kannan Shivachariarar, the chief priest of the Appar Swami Temple ( seen in the second photo here) said that every year on this day, Appar Swami goes out on a long procession around the Veera Perumal Street and the Appar Swamy Street but in these times, with the restrictions imposed during the lock down, this annual festival of the Siddha for whom this temple is dedicated was celebrated in a toned down manner with only the abhisekam inside the temple.
The belief here is that the prayers of those who invoke the blessings on this day are fulfilled.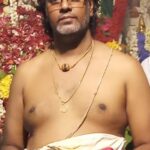 He said that while there are no external processions, the four kaala pooja was being performed each day of the lockdown with special days such as pradosham too being celebrated within the restrictions imposed during the lockdown.
He said that the pooja for Bairavar on Ashtami Thei Pirai is special at the temple as is the pooja for Thayumaanavar.
On the Government today issuing new directions on the conduct of the festivals in temples in Tamil Nadu, he said he would have to discuss with the temple authorities on the next course of actions relating to the upcoming festivals including the Vinayaka Chathurthi in August.
Report by S. Prabhu.
First photo used here is from the files.