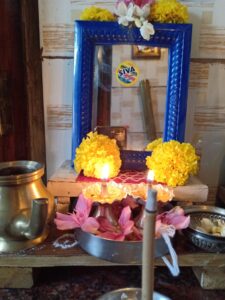 This season of Aadi will be very different. For obvious reasons.
Temples are shut though rituals are carried out inside. Offerings and prayers cannot be done in public spaces, so women cannot carry out their daily rituals too.
But people are following the rituals at home and Mylapore Times shares photos and stories of some practices that its readers are sharing.
Aarthi Satish mailed us this photo and a note, saying that this is a Aadi ritual  followed by Kerala Iyers to invite goddess Lakshmi  at dawn.
'People offer fresh flowers, light the  lamp in front of mirror and perform a small neivedyam every morning at 5 am and my mother, Vasanthi Ramachandran does it every morning.
This family resides in Lalitha Nagar in San Thome.