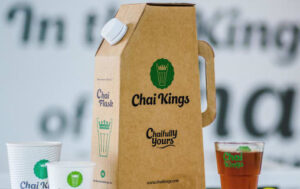 Chai Kings, the popular tea outlet at TTK Road, Alwarpet, known for offering a wide range of flavoured chai is open for takeaways.
All its tea varieties including ginger tea, sulaimani tea, and lemon tea will now be available for sale.
One can also order snacks – samosa, noodle samosa, egg puffs and panner puffs.
To facilitate takeaway, the store packs tea in a cardboard flask (500 ml) that can hold 5 cups of the hot beverage. However, it does not provide a single tea for takeaway.
Says Satyam, manager at the outlet, "Though sales have been low post lockdown, there is a slight increase in demand for ginger chai and masala chai after the recent rains."
The store follows all the necessary precautions to prevent virus spread.
A set of five regular tea is priced at Rs. 131. Orders for door delivery can be placed via Swiggy, Zomato and Dunzo.
At 85/4, TT Krishnamachari Road, Alwarpet. Open from 6 am to 10 pm on all days (except Sundays). Ph: 9962953628.