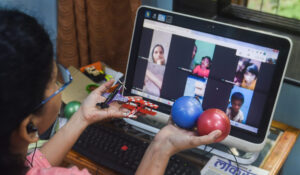 Since this past week, CSI School for the Deaf in San Thome has started taking online classes.
The classes are taken for students from class 1 to 12 via zoom.
Says James Albert, headmaster of the school, "As physical classes are not possible during lockdown, we started with online classes. Students are able to understand their lessons well through sign language."
He says that most teachers take classes from their homes. "A few teachers, who do not have laptops, come to school and take classes using computers there."
However, the headmaster says they are able to cover only 50 % of students through online classes. "The others are from underprivileged backgrounds. Their parents are either daily wage earners or domestic helpers. So, they do not have access to mobile phones or laptops."
"We are arranging second-hand mobile phones to help them. We are also coaxing their well-wishers to provide them phones," he adds.
Picture courtesy: theweek.in