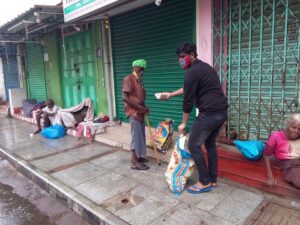 There are the homeless and the destitute who you may rarely come face to face in Mylapore on an ordinary, pre-Covid time.
But on a lockdown Sunday, like this one on July 18, these faces were the ones that were starkly visible if you cared to cycle down some areas where they might have got some food or money.
In areas like Sai Baba Temple and Sri Kapali Temple, off R. K. Mutt Road and near the mosque on Kutchery Road – places where people may offer some charity.
But on lockdown days, without hardly any souls outside, and on this wet day, men and women got under the sunshades of local shops on the mada streets and around.
Community activist Baskar Seshadri says he and his volunteer, with donati0ns from people have been offering lunch packs and tea to such destitute. And they did so today. (A few orthers also come around to offer support).
Says Baskar, "Today, there was a man under the temple tan bust stop who could not even put out his hand to receive our food pack."