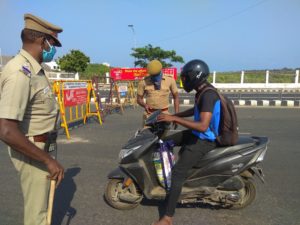 Workload has increased for Mylapore's traffic police, as at least 5 of their police colleagues have tested virus-positive in the recent past.
Says a traffic police inspector attached to Mylapore police station, "Our workload has increased after 5 traffic policemen tested virus-positive in the past few days."
"They are currently relieved from duty and are undergoing treatment. Due to this, we are unable to take even a single day off. And that is frustrating us."
Since the lockdown began in March, the policemen have been working round the clock to regulate the lockdown rules in the neighbourhood.