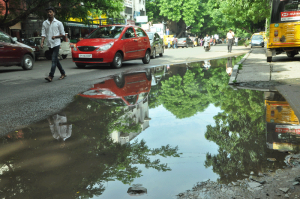 Have you checked your rainwater harvesting system in your campus or your compound recently? The recent rains would have anted you you to do just that.
For, this is the time to check if your system is good to use or needs some repairs and cleaning to have it in good shape for the monsoon later this year.
In recent days, there has been small amounts of rain and even this, say civic activists is good enough to slowly recharge the groundwater.
Metrowater says it now plans to install rain gauges and groundwater wells in all its unit offices so it can not only read rainfall locally but also gauge the ground water levels and address issues locally.
Photo used here is a file picture