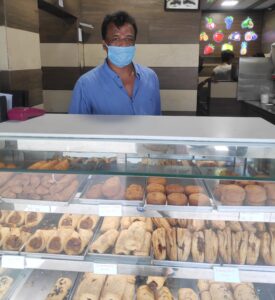 For over three decades, rose milk and Softy at Senthil Softy Zone on Kutchery Road has been a favourite for Mylaporeans.
Then there are snacks too –  Samosa, Cutlet and the like.
As with most businesses, this snacks joint was impacted in the last few months. But the owner, P Muralidharan turned innovative. And there is a positive message for local businesses on the way he managed and waded through the crisis.
He spotted an opportunity and focused on it – he baked bread. Why? Because there was a demand for it. It sold fast when shops were allowed to be open.
Since the lifting of the pandemic restrictions, he says 25% of his customers have come back.
A good proportion of the 50 varieties of items he sells in his shop are back on sale. However there are some serious issues ahead. Six of his staff went back to their hometown during the lockdown and have not returned.
He is not sure if they will return anytime in the near future. He may have to recruit new staff.  And he is aware that not all clients want to be in the open and be shopping.
"Only the businesses with a strong brand and those that focus on quality will remain. The fly by night operators are likely to vanish. In a world that has seen serious health issues, hygiene and cleanliness will be of utmost importance. Customers will place a premium on quality brands and they will go to those that they trust," says Muralidharan, speaking like a true well-experienced retail businessman.
Senthil is one brand that has been trusted by the customers not just from Mylapore but from across the city as seen from anecdotal stories provided by Muralidharan.
"Around 75% of my customers are from outside Mylapore and are spread across the city," he tells us.