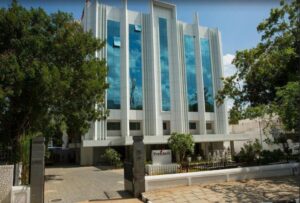 Kauvery Hospitals at TTK Road, Alwarpet has collaborated with Clarion Hotel President ( seen here in a online sourced photo) , a luxury hotel at Dr Radhakrishnan Salai to provide quarantine facility for mild and asymptomatic cases of COVID-19.
With 90 beds, the hotel will now act as private Covid care centre for such patients.
Says Madan Raj, Head of Operations at Clarion Hotel President, "Considering the current virus situation our Managing Director wanted to help the neighbourhood hospitals in accomodating patients with mild virus symptoms. Hence, we volunteered and tied up with Kauvery Hospital."
He says that people will be tested at the hospital and only mild and asymptomatic COVID-19 cases will be sent for a 14-day quarantine at the hotel.
"We will provide single and double occupancy rooms for a cost. Coffee/tea and food will be provided thrice a day. All the other essential facilities will also be made available to them."

Madan says that the preparations have already started to accommodate patients at the hotel. "We will start housing them once the hospital notifies us."
To take care of the patients accommodated here, a team of four nurses and one doctor from Kauvery will be present at the hotel 24/7. An ambulance is also stationed here to ferry patients to the hospital in an emergency.
After two weeks of stay, the hospital will test the patients. "If they test negative then they will be sent home else the quarantine period will be extended according to the hospital norms," he says.