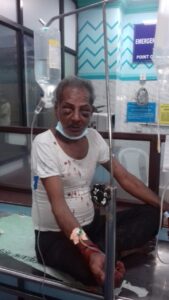 Blood oozed out of a head. Another's hands were bloody and bruised. And a third had gashes under the eyes.
At least four homeless people who find refuge in areas around the tank of Sri Kapali Temple nowadays were beaten up by a trio of youths and allegedly robbed of little money on the night of July 18.
Today, Mylapore police, handling the case arrested three people and got them remanded. ( seen in the second photo). One was from Kannagi Nagar, one from T. Nagar and one from Mylapore.
Police said the men seemed to be addicted and must have been targeting people for money to buy liquor or drugs.
Police said the trio attacked the homeless and beggars who were sleeping under sunshades at night and took away small change that the beggars had. The trio had battered some of the beggars whose cries alerted local civic workers who rushed to their aid and took them to hospital.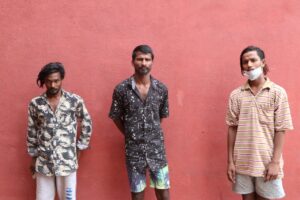 With life affected since April, the large number of homeless who hang around temples in Mylapore and outside San Thome Cathedral have now found space off the temple tank and far end of Kutchery Road.
Sometimes, volunteers of NGOs share food packs to them. Else, locals do so.