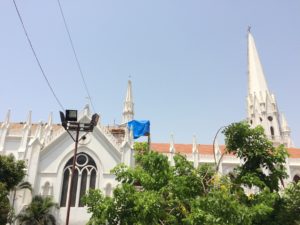 August 15 is India's Independence Day. In the Catholic Church, it is also a day to celebrate the assumption of Mother Mary into heaven and hence a special day in the church calendar.
At the St. Thomas Cathedral in San Thome, archbishop Rev. George Antonysamy will celebrate a special Mass at 10 am and it will be bi-lingual – in Thamizh and in English.
The Mass, with restricted participation due to the pandemic regulations will be web cast live on San Thome TV and Arputhar TV channels, freely.
Daily and on Sundays, Masses said either at the cathedral or at the chapel in Bishop's House next door in San Thome are web cast on San Thome TV web channel.
The local churches remain closed since late March.