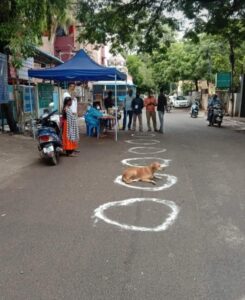 A local civic worker, involved in virus containment activities, says that number of people attending fever camps has drastically come down in the past few days.
She says that only 40 to 50 people attend fever camps at slum areas now.
Says the animator, who organises fever camps in Mylapore, "In May and June at least 150 people used to attend fever camp. But now only 40 or 50 are attending it."
This she says is because of holding frequent camps in the same area.
"Every week, we hold a camp at say Kapali Thotam. Hence, people who have attended camps, this week don't turn up the following week, as they have checked themselves recently."
"And this is the case only at slum areas. At residential areas, hardly one or two turn up for the camps."
Last Sunday (Aug 9), when the neighbourhood was under complete lockdown, she says that 50 people attended camps at slum areas including at Sriram Colony in Abhiramapuram.
"But at residential areas, where middle class and upper-middle-class people live, the attendance is thin be it on a Sunday or a Monday."
Most people living at apartment complexes, she says have their own thermometers and pulse oximeters. So, the residents say they don't need fever camps, the animator says.
Says Ganga Sridhar, a resident of Dwarka Apartments at Raja Street in Mandaveli, "I have my own thermometer and pulse oximeter. And I check my temperature and oxygen level every day as a precautionary measure."
"Also, now, the Corporation's fever surveyors have started checking our temperatures and oxygen levels every week. So, I don't see the need to again go to a fever camp to get myself checked, "she says.
People also say they fear the 14-day isolation if found to be Covid positive. And hence avoid attending the camps. Says Ganga, "The stigma attached to how one would be treated if found to be virus-positive, is dominant in everyone's minds. This is the major reason people are not attending camps, " she says.
The animator too admits that the fear of isolation is prevalent among people.
"We keep spreading awareness and reassure residents that camps are for their own good. But only a few tend to understand and participate in camps" she says.
Picture shows a fever camp held in Mylapore last Sunday; courtesy: Baskar Seshadri